On 18th August 2017 the archaeological and documentary exhibition "Riscoprendo Monte Torretta di Pietragalla. I Tesori nascosti del Museo Provinciale di Potenza" was inaugurated at the Provincial Archaeological Museum of Potenza "M. Lacava".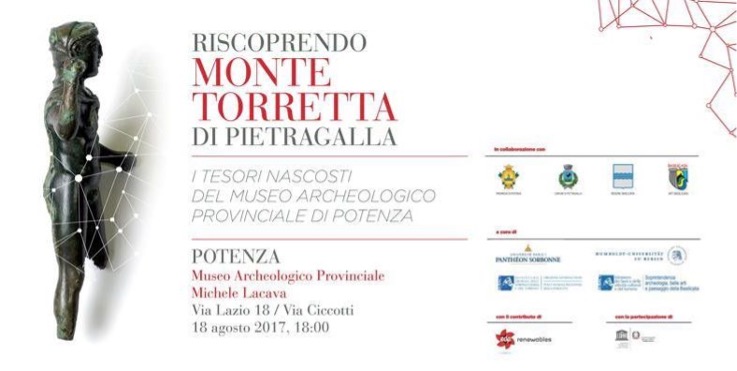 The initiative was unique in the history of the Museum, as it not only brought to the attention of the general public unpublished artefacts that were unknown even to specialists in the discipline, but also because these materials came from a series of excavations financed and directed between 1956 and 1965 by the then director of the Provincial Museum of Potenza, Francesco Ranaldi.
The exhibition made it possible to rediscover the many facets of Ranaldi's investigations – which have never known a proper publication – and enabled the return of some extraordinary works of art to the national and international scene, such as a bronze statuette depicting Heracles struggling with the Hydra serpent, or a precious thymiaterion with a movable cock made of the same material. In addition to this, there are photographs from the period as well as numerous archive documents that recount the laborious organisation and management of the long construction site conducted by Ranaldi in the 1950s, meticulously unveiled to the public as never before.