The study of the archives and archaeological objects from the ancient excavations has led to an exhibition at the Museum of Potenza in 2017: Riscoprendo Monte Torretta di Pietragalla. I tesori nascosti del Museo Archeologico Provinciale di Potenza. The aim of this exhibition was to show the archaeological wealth of the site and to stress the scientific, cultural and tourist interest that a new archaeological field survey, carried out using modern methods, could represent. An Android application accompanied the visit to the exhibition, which has subsequently become part of the permanent museum itinerary.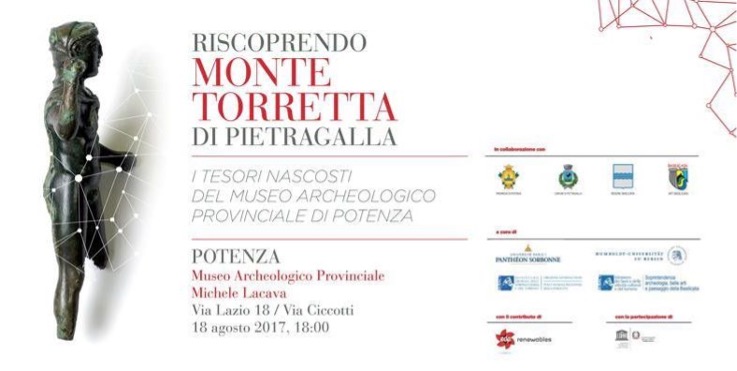 Parallel to the opening of the exhibition, the first archaeological operations of the Pietragalla Project were launched in August 2017 on the site of Monte Torretta by the universities of Paris (Panthéon-Sorbonne) and Berlin (Humboldt), under the direction of Vincenzo Capozzoli, Alain Duplouy and Agnes Henning and in collaboration with the Superintendence of Basilicata.
The main objective of this first session was to carry out new surveys of the visible structures, as identified by our predecessors, while transferring all the data into a Geographic Information System (GIS) and a relational database. In view of the scope of the task, the topographic surveys focused on the top of the site ("acropolis"). On this occasion, conventional names were given to the two main features of the fortification system: Porta Livia corresponds to the passageway in the south wall of the acropolis, while Porta Maria refers to the main gate of the outer enclosure.
This return to the field has above all made it possible to highlight various anomalies in the old surveys, which are not without consequences for the overall interpretation of the site, particularly at the level of the accesses to the acropolis (Porta Livia). The 2017 campaign also revealed, on the northern slope of the Acropolis, the presence of various parallel terrace walls, none of which are particularly distinctive, thus calling into question the idea of a single fortification wall around the Acropolis, as had been admitted until then. At the end of this field session, the question of the fortified enclosure was therefore posed in a completely new way.